Rectangular watches really started off with the Gruen Quadron in about 1925, these being the first watches with a rectangular movement.
This was a move away from the earlier square or cut corner watches, that usually housed a smaller round (and usually ladies calibre), to a purpose built rectangular movement that retained the larger style men's components and therefore accuracy (the size of the balance is important).
These rectangular watches were a huge success from about 1927 – and were copied by many other companies most of whom rushed to produce comparable rectangular movements, although some continued to use round movements in the meantime – leading to the stepped cases as an attempt to hide the unfashionable round movement. The following bulova is a classic example, note the size of the movement peeping out from under the dial.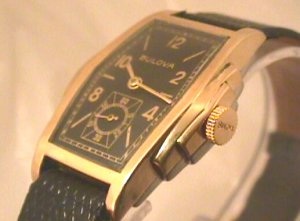 Roamer, was fairly quick to produce their own in-house rectangular movements, with the first rectangular ladies Roamer calibre introduced in the 1920s, the MST 237 and 270. The first men's rectangular calibre was introduced shortly after – probably around 1930 or 1931, the MST 302 – and appears in the 1933 materials catalogue.
Here is an early example, with the early logo – the Standard nomenclature was adopted sometime before 1933 as it appears in the 1933 catalogue.
Period side engravings, late 1920s, early 1930s.
Dial detail, appears all original on close examination – it is a commonly held myth that the notch at 3 always indicates a redial – this was used by Roamer (and others) in the manufacturing process for location between stamping and printing.
The case has a clear service mark of 1933 – if one assumes a reasonable 2 years to first service, it would place the watch at 1931, a fair estimate is of course 1931-33.
The watch needs substantial cosmetic work (not the dial) and movement work including a new balance staff. While it will eventually appear in the main collection, I thought it interesting enough to publish in the blog now due to the dearth of provably early 1930s Roamer watches.